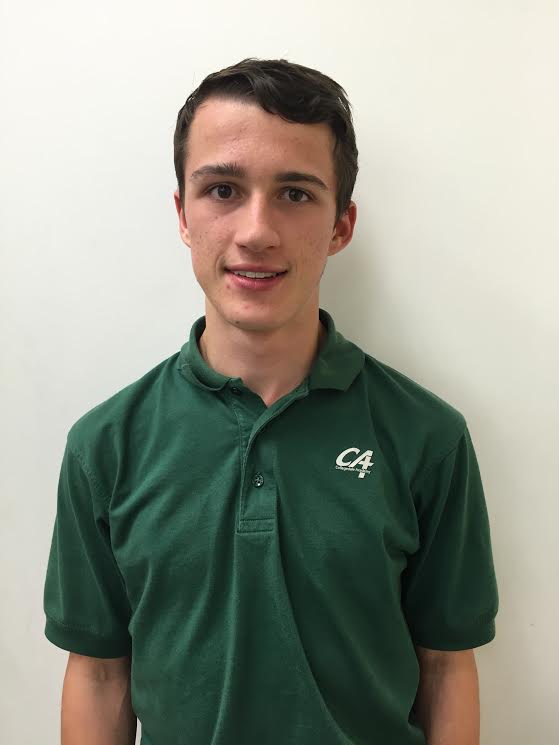 I enjoy camping. I like collecting foreign money, painting, drawing, reading, and writing.
I want to become a teacher - either an English teacher, which I have Mrs. Holland to thank for, or a World History teacher, which has its inspirations from Mr Graves. Some day I want to backpack Europe, and I want to live in the Northeast or Northwest
My favorite part about life is time to be myself, like when I get to go into the woods for a weekend and spend time with friends and with God. I live for that, and it helps me grow closer to Him.
Devin Vaudreuil, writer
Apr 18, 2017

Let's let God wake us up

(Story)

Apr 16, 2017

Bronze girl faces Wall Street bull

(Story)

Apr 06, 2017

10 places to visit in NYC

(Story)

Apr 05, 2017

How to live in the Flashlight Generation

(Story)

Mar 29, 2017

We talk about the first times but not the last times

(Story)

Feb 28, 2017

Top 10: Sophomore Research Fair

(Story)

Feb 20, 2017

Symbols of sacrifice

(Story)

Feb 10, 2017

Outcast: a short story

(Story)

Dec 08, 2016

Harmony in a multi-generational church

(Story)

Nov 29, 2016

Do it right the first time

(Story)

Nov 16, 2016

Ten ways to keep one's self occupied on a Midwest road trip

(Story)

Sep 29, 2016

Book Review: Love's Sacred Song

(Story)

Sep 27, 2016

The Quill and the Sword

(Story)

Sep 15, 2016

Happy Little Life: Listen

(Story)

Sep 05, 2016

Sing the songs of our youth

(Story)

Sep 02, 2016

Happy Little Life: Draw something

(Story)

Aug 21, 2016

Life of Water, Can't Swim

(Story)

May 18, 2016

Happy Little Life: Go for a picnic

(Story)

Apr 28, 2016

"I Still Got One Leg"

(Story)

Apr 25, 2016

The spark to start the blaze: CA Student Week of Prayer

(Story)

Apr 11, 2016

What about our children?

(Story)

Apr 05, 2016

What does it take to be an Ironman?

(Story)

Mar 30, 2016

Swallowing my ego

(Story)

Mar 15, 2016

What sets religion teachers apart from other teachers?

(Story)

Feb 16, 2016

Five most eye-catching research projects

(Story)

Feb 09, 2016

Ten surprising Super Bowl facts

(Story)

Feb 05, 2016

Top 5 books to read by the end of 2016

(Story)

Nov 16, 2015

10 things students don't know about their teachers: Ronnie Pittman

(Story)

Oct 28, 2015

A 26-mile reflection

(Story)

Oct 15, 2015

Behind the Syrian Refugee Crisis

(Story)

Oct 09, 2015

Potential benefits of paternity leave

(Story)

Oct 06, 2015

Controversy ensues from new book Star Wars: Aftermath

(Story)

Sep 22, 2015

Ten words in the English Language you've never heard of but desperately need

(Story)

Sep 20, 2015

Donald Trump proposes immigration reform similar to past proposals

(Story)

Aug 31, 2015

Collegedale Academy's auditorium undergoes renovation

(Story)

Aug 20, 2015

Japanese leader refuses to apologize for World War II

(Story)