Author Visits at CA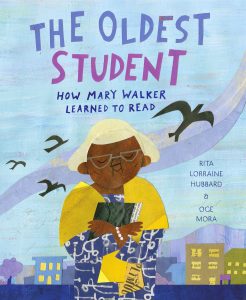 If you've taken an English class at Collegedale Academy, chances are you've experienced an author visit. Mrs. Renslow and Ms. Hunt have organized their classes so that students can gain advice on their English projects from professionals.
       In English II, sophomores write, illustrate, and put together a children's book during the second semester. Writing a book is a difficult process, so who better to ask questions than an actual children's book author Rita Lorraine Hubbard, author of The Oldest Student and Hammering for Freedom, recently visited CA to speak. Hubbard is a former teacher, who began writing books for children and adults in 2007, releasing her book The Oldest Student in 2016. 
When asked about the inspiration for author visits, Ms. Hunt noted:
 "I think it's awesome to let students engage with professional writers. Besides providing inspiration for their projects at school, it also shows how skills learned in English class are used outside the classroom."
      The Juniors, who recently wrote short stories, had a zoom meeting with Ruta Sepetys. Ruta Sepetys is a New York Times bestselling author, famous for her historical fiction works such as Between Shades of Gray and Salt to the Sea. Sepetys started off by sharing her own journey through life, which helped students connect to her more. Ruta is Lithuanian- American, the daughter of a refugee. Her goal is to share the stories of groups of people forgotten by history. Many students enjoyed her visit, as she gave many interesting insights on writing.
   Sepetys says that when she writes, her first drafts are often very messy. According to her, being an author isn't a process of writing, but rather re-writing. Sepetys greatest piece of advice is to put yourself in the shoes of who you're supposed to be writing about. 
       Many students enjoyed these visits and thought it was useful in their own assignments. Junior JohnPaul Cunningham said, "I wasn't expecting the author to be so professional, but she really knew what she was talking about and how to help us." Hopefully, in the following years, this new method of learning will continue to be implemented in CA's English department.