CA Concert Band Tours North Carolina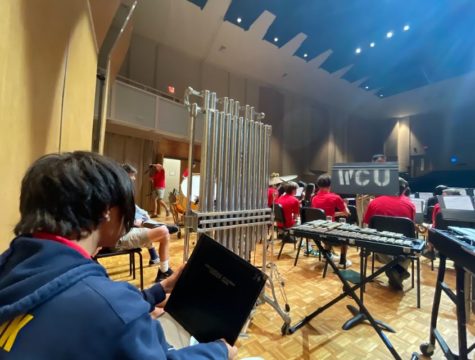 On April 19-April 22 Collegedale Academy's high school band headed off on tour. They visited Fletcher Academy in North Carolina. Fletcher was kind enough to let them sleep in the boys and girls dorms while their students were on home leave. Band tour had six performances in total, with a busy and crowded schedule.
Their first stop was at the Greeneville SDA Academy in TN. They gave an outstanding performance for all the elementary to middle school students. In the end, Mr.Lindquist asked all the kids to stand next to their favorite instruments for one of the finishing songs. Junior Andrew Sinha was playing the timpani, and a bunch of little kids crowded around him as he confidently played his solo. 
Later they packed up everything and had a masterclass at Western Carolina University, where their band leaders critiqued the CA band. We watched their band perform, and they were absolutely amazing. The band room was humongous and the conductor had tons of energy with her conducting. In the end they took students on a tour around their beautiful campus. To close the day the students had worship by Seniors Leah Hicks and Madeline Miyashiro.
The next day they all headed to the Biltmore Estate. The Biltmore is the biggest mansion in America, and its architecture is very beautiful. The band got to tour around the whole place and the gardens. Later, the Jazz Band played around the Biltmore's Antler Village which was a place filled with shops and restaurants. The Jazz Band gave a flawless performance, and people all around the restaurants gathered to watch them play. In the end they got a plaque from the Biltmore Estates thanking them for their outstanding prefromance. That night Sophomore Kawai Oskins led worship with his story of how he was chased by, but then escaped from, an elephant.
On Friday they headed towards Blue Ridge Parkway and hiked a long trail up the mountain. It was definitely worth the beautiful view of the North Carolina mountains. 
As they came back exhausted they had a short break to change and get to Fletcher SDA Church for vespers. The worship that night was led by Senior Andrea Boyko.
On the last day they all headed out to Arden SDA Church. They all had potluck there after their performance, and thanked the church with a little song before they left. On the way back everyone was tired and content as they all thought about their memories on their unforgettable trip.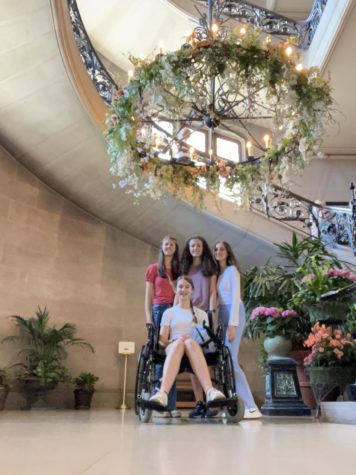 9th graders Isabella Anderson, Eden Knapp, Katie Starr and Anastasia Schober tour the Biltmore.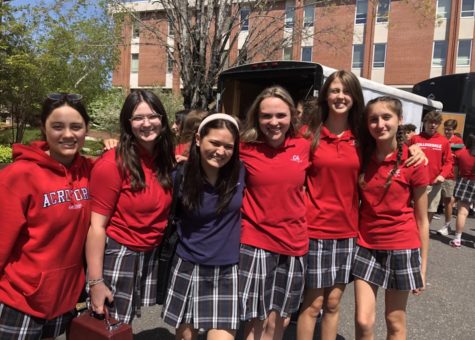 12th graders Laurissa Mancia, Sydney Crabtree, Maddie Miyashiro, and Leah Hicks with 9th graders Isabella Anderson and Anna Schober unload the trailer at Fletcher academy.