Senior Economic Classes Launch Small Business Project For 2nd Year
Seniors at Collegedale Academy take a one semester course called Economics taught by Mr. David White, where they participate in the yearly Business Project. This project teaches students the factors behind supply and demand first hand, as students organize themselves into groups and formulate a business plan. There are several steps that are required to starting a business: proposal, advertisement, selling, and analyzing.
During the preparation period, businesses decided on names, logos, slogans, what products to sell, when to sell, and more. Once all the details were worked out, groups presented their ideas Shark Tank style to a panel of admin and teachers. If approved, the group started production. 
Businesses range from snow cones and empanadas at lunch, to crepes in the morning. While most groups are food oriented, there are also some groups such as Nio Monteso's project which includes graphic design elements with logo creation, or JohnPaul Cunningham's lawn business. Students face several challenges – such as pricing, location, how much to produce, and more. For some, there have been technical difficulties such as heating equipment working, or keeping things cold. "It was really hard to keep the ice cream frozen until lunch, but we figured it out. Overall, we did pretty good and Gabe [Dewind's partner] and I made some decent money out of it," commented Camden Dewind, owner of Hang Loose Ice Cream Bar. All of this helps Economics students to gain a better understanding of what it takes to run a business, and what attracts consumers to a business.
Two assignments in this project include both a physical and a media advertisement, which includes the company's logo and important information. Several businesses run Instagram pages to give out information such as menu, dates, pricing, and to show students who are buying their products to garner more attention. Mr. White taught students about color theory and the factors of demand in class, which help businesses to target potential customers and earn profits.
Overall, this Economics project is very insightful to real life, and gives students an opportunity to learn how to work with others, and how to market. "This project helps students to experience the factors of supply and demand. They are required to use what they learned in class to make sure they have a successful business," Mr. White added. For hungry students, it is also a great time to walk into the courtyard at lunch and see an array of different sweet and savory treats. This project truly displays the creativity and teamwork that CA students are capable of, and teaches them valuable lessons for life.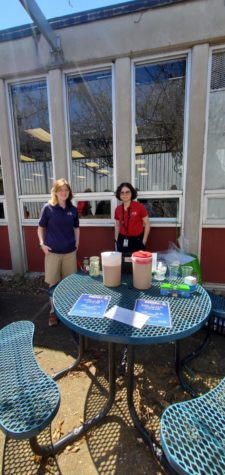 Belle Pardo and Ally Walker sell Chai and Boba Tea at Space Sip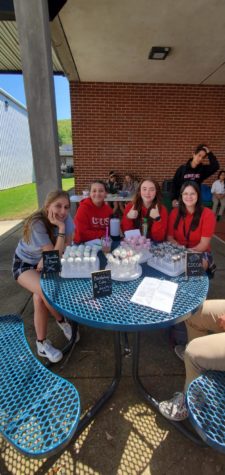 Your Mom and Pops, run by Kaitlyn Appel, Gracie Mattox, Claire Fisher and Sydney Crabtree, sell their cake pops at lunch.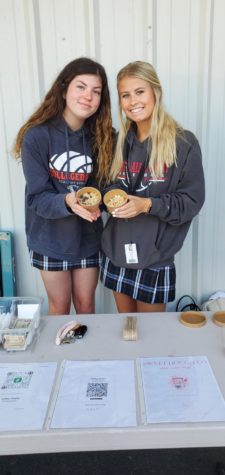 Atlanta McKee and Hailey Shabo display their edible cookie dough at Sweet Dough Co.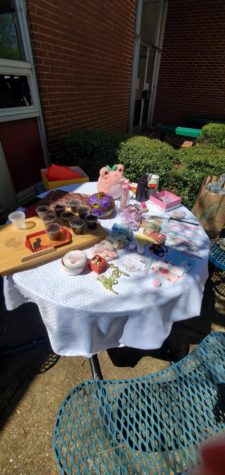 The Pastel Shop, run by Kaylee Garcia and Paris Romero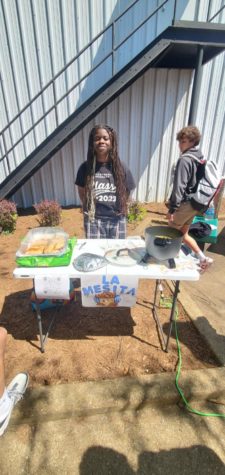 Denise Elve sells hand made empanadas at La Mesita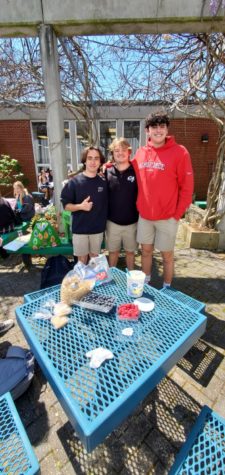 Grandma's Parfait Co. owned by Tristen Halversen, Tristan Hulsey, and Matthew Raney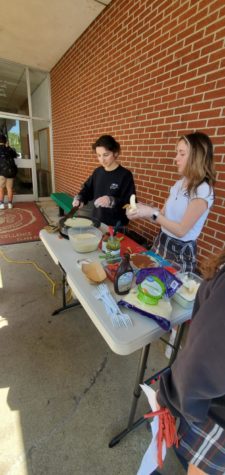 Victoria Griffin, Jasmine Zavala, and Olivia Waterhouse busy making crepes at Crepes and Co.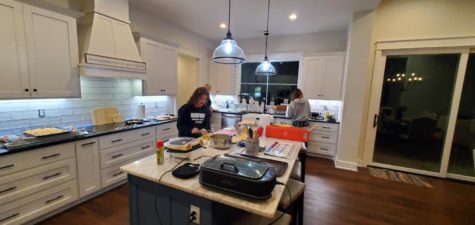 Ashlyn Williams prepares breakfast burritos to sell in the morning at Big Boy Ritos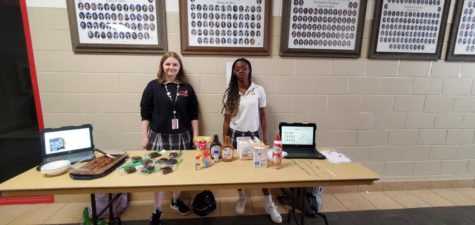 Madeline Corbit and Maya Franklin sell sweet treats and handmade cause awareness bands at Bands and Brownies.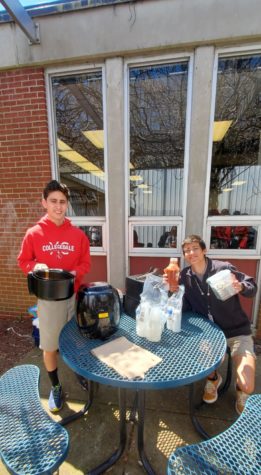 Baldwin's Favorite Fries run by Andrew Miyashiro and Andre Evans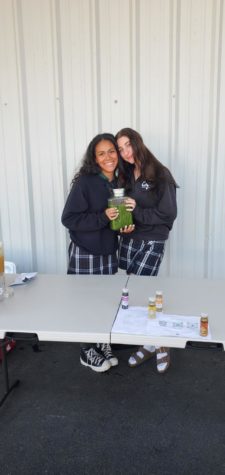 Betsy Guerra and Courtney Williams present B&C Juice for sale at lunch