Week of Prayer Highlights
The week of August 27-31 was our first Week of Prayer of the year, and it was a truly amazing experience. Pastor Jason Foster, the spouse of our lovely sophomore and senior religion teacher Mrs. Foster, was chosen to be the speaker. Throughout the week, he addressed many subjects, and asked that the student body be wise enough to make their own decisions—hopefully the right ones.
The following day he warned us not to be deceived, for only a fool allows themselves to be tricked repeatedly. After planting these seeds of thought in the students' minds, Pastor Jason decided to take it a step further. He brought to light a larger, arguably more pertinent question: How do we make sure that we are useful in such a way that no matter the situation, we are able to aid those in need?
He ended with the stinger, as any good Week of Prayer does. He asked us what changes we need to make in our lives, prodding us to delve into the intricacies of our day-to-day routine and identify how to improve it not just for ourselves, but for those around us as well. If none of this resonated with you, there are other aspects of the Bible to discover, but the only way to find them is to dive into the word of God. It is the blueprint for our life, our guidebook, and in the words of Pastor Jason, "If you want to have a good story, you gotta have a good Script."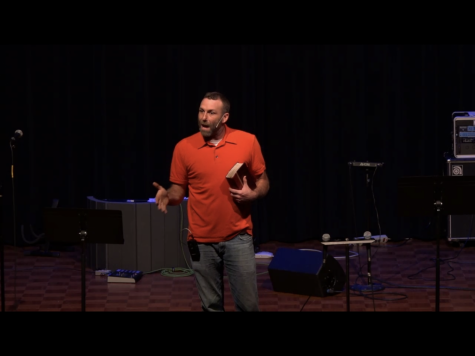 Another wonderful aspect of the week was the music. Students from across the grades came together and performed on stage all for the glory of God's name. The group did a fantastic job throughout the week, and the hours of hard work that they put in most definitely showed.
If applause is any indication, the aspect of music that entertained the crowd the most was the soloing from the electric guitar played by Michael Mancia, a sophomore. He had three solos throughout the week, all of which he performed masterfully. His final solo on Friday was unfortunately underwhelming due to circumstances beyond his control and the control of the A/V tech Tyler Vaudreuil, but the entire group continued to perform with gusto and the message was still impactful.