Sophomores impress crowd at annual Research Fair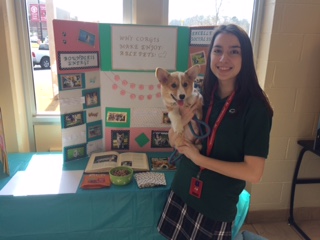 Last Friday for Academy Day, Collegedale Academy's Sophomore English classes showed off their creativity and smarts for the incoming freshmen.
I was impressed by the thought and detail that each student put into his or her research, and by the curious looks, giggling laughter, and gaping mouths, I could tell that the visiting students were impressed as well.
The following are a few projects that stood out to me.
Grace Scoggins brought in her own corgi, Aly, to prove her point on how corgis make great pets.
A cute kitten accompanied Makayla De Wind who chose to focus on the intellectual capabilities of cats and horses; they are smarter than people might originally think.
Carolina Smith's blood-splattered apron and huge, fluffy dog were an instant eye catcher and made viewers think about animal cruelty.
When there's a student dressed up like an authentic Starbucks barista handing out free coffee, no one could resist. Lauren Caldwell's beautiful poster-board featured some of the effects that come along with coffee.
Dillon Taylor, dressed in an authentic Blacksmith skirt, stands beside an anvil and lots of homemade tools.