Caleb Traxler reflects on 7 Bridges Marathon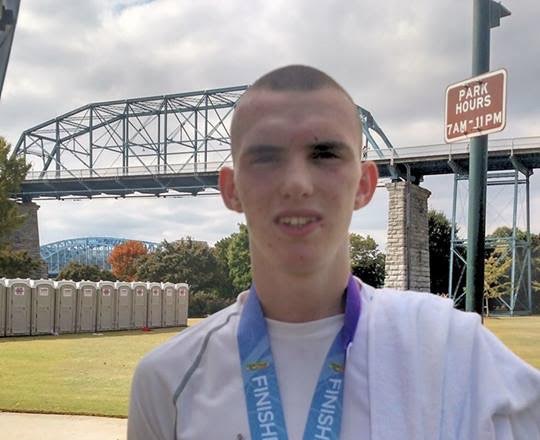 One of the finishers of the recent Seventh-day Adventist 7 Bridges Marathon is Collegedale Academy's own: Junior Caleb Traxler.
Traxler ran a respectable race, pushing through when he suffered from cramps in his legs after 13 miles.
Despite completing, a victory in itself, Traxler found the entire race to be a humbling experience
"I got caught up in the moment, ran too hard from the beginning and failed to reach my goal because I overestimated myself. Another thing that caused the cramps and how slow I ran was because I didn't take in enough food and nutrients in the weeks leading up to the race," Traxler said.
Traxler says that he will work harder to prepare himself next year: "I'm going to pace myself better so I do not burn myself out at the beginning of the race. Also, I'll train harder to be in better shape. Never be overconfident in your own abilities. Let God guide your race, in running and in life," Traxler said.
"And let us run with perseverance the race marked out for us, fixing our eyes on Jesus, the pioneer and perfecter of faith." – Hebrews 12:1-2