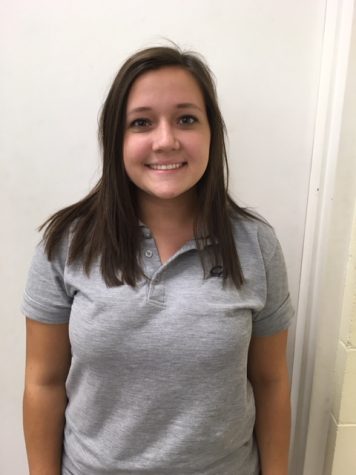 My full name is Madison Priscilla Lane Reinschmidt, and I'm a junior this year. Some of my hobbies include writing, reading, music, photography, cooking, tennis, and so many more.
In life, I hope to publish a book, be a missionary for Jesus on every continent, have a family, but most importantly become a person that God would be proud of.
I believe in equality for all and showing love to everyone I meet. I'm excited to share my thoughts and ideas through my writing this year.
Madison Reinschmidt, writer
Sep 20, 2017

Students share experiences from Leadership Conference

(Story)

Sep 18, 2017

Happy Little Life: Take a hike

(Story)

Sep 14, 2017

Five ways we unite our school family

(Story)

Aug 31, 2017

CA bikers race to the finish

(Story)

May 19, 2017
Apr 22, 2017

Celebrating the Earth we are stewards of

(Story)

Apr 04, 2017

Joelle Pester wins January character trait of the month

(Story)

Mar 28, 2017

Band and orchestra participate in SAU music festival

(Story)

Feb 21, 2017

Take the "Day of Love" quiz

(Story)

Feb 08, 2017

Healthy alternatives to favorite junk foods

(Story)

Feb 03, 2017

Super Bowl LI predictions

(Story)

Jan 20, 2017

Happy Little Life: Bird Watching

(Story)

Nov 28, 2016

Top Ten: Favorite places to visit in the U.S.    

(Story)

Nov 11, 2016

Collegedale Academy Orchestra returns from tour in Florida

(Story)

Nov 08, 2016

Cast your burdens on Him

(Story)

Oct 28, 2016

Secret Sisters launches at CA

(Story)

Oct 27, 2016

Students give thoughts about banquet theme

(Story)

Oct 06, 2016

10 ways to celebrate autumn

(Story)

Oct 03, 2016

10 things students don't know about their teachers: Brian Arner

(Story)

Sep 22, 2016

Deserted Island: Choose one book for life

(Story)

Sep 14, 2016

Echolier Eats: Mrs. Beasley's Potato Soup

(Story)

Sep 07, 2016

Jesus calms our waters

(Story)

Aug 30, 2016

CA students give their best advice

(Story)

Aug 22, 2016

Back to the Ol' Grind: Tips on being successful this school year

(Story)